Entertainment metadata created by experts.
A passion for entertainment and a dedication to accuracy leveraged by leading companies all over the world.
Help consumers find what they're looking for.
A high-quality metadata catalog provides the foundation for intuitive search and navigation, enabling users to easily find their favorite TV shows, movies, music, celebrities, books and games, as well as discover new ones. With 60+ years of experience in consolidating, normalizing and structuring entertainment metadata, TiVo has developed an ID structure often viewed as an industry standard. We dedicate hundreds of people across the globe, covering countries in North and Latin America, Europe and Asia, consistently processing millions of program and episode changes. Our expertly created editorial content and collection of images create eye-catching and engaging entertainment experiences to differentiate your product or service. It's this global breadth and content depth that create cross-category links, helping drive additional consumption and engaging fans by making connections across multiple media types. With metadata from TiVo, deliver a unique consumer experience, increase consumption, build loyalty and ultimately drive revenue with a catalog that's deep, broad, comprehensive and current.
Video Metadata
A leading metadata resource for international TV shows, movies and sporting events, TiVo provides metadata on more than 17 million programs, plus descriptive information on theatrical, DVD and Blu-ray releases. With TiVo's Video Metadata, get the basic facts as well as rich media and unique features designed to satisfy avid entertainment fans – from bios and reviews to trailers and Twitter handles. Whether you need TV listings on local schedules, details for on-demand guides or entertainment websites or deep links to OTT content sources, our Video Metadata can help you differentiate products, and drive consumption and sales.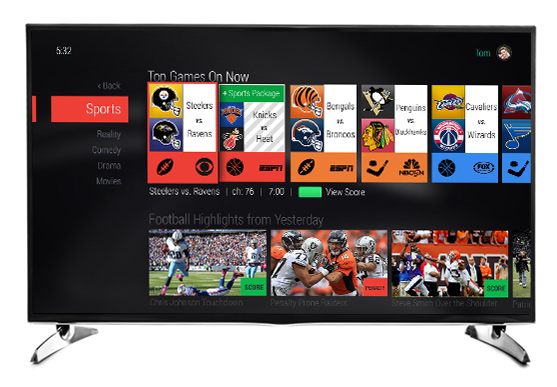 Sports Metadata
Our international sports metadata catalog covers more than 60,000 of the world's most popular sporting events – including the Olympics, designed to help drive viewers to the most exciting sports content available and offering rich, real-time information.
Digital First
Digital First short-form web content is what Gen-Z and Millenials are watching most and at record rates. TiVo's Digital First solution leverages our editorial expertise with machine-learning technology to surface and organize your digital-first content, making it searchable and accessible. We create the relational connections from digital first shows to relevant long-form traditional content, inviting and engaging younger audiences to your entire service offering.